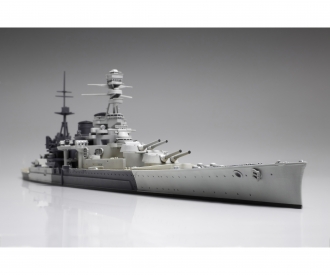 1:700 Brit. Repulse Battle Cruiser WL
Article number: 300031617
Age recommendation: from 14 years
Quantity:
1
2
3
4
5
6
7
8
9
10
11
12
13
14
15
16
17
18
19
20
21
22
23
24
25
26
27
This item can only be delivered to the following countries: Germany, Austria, Portugal, Netherlands, Hungary
Article number: 300031617
Product: 1:700 Brit. Repulse Battle Cruiser WL

In August 1916, the construction of the HMS Repulse was completed. During the First World War, the lightly armoured Renown-class battle cruiser took a leading role in naval offensives due to its speed. After the First World War, the armour was reinforced and the ship modernized. When the Second World War broke out, the Repulse took an active part in the hunt for the German battleship Bismarck. The HMS Repulse was later relocated to Southeast Asia as the British government feared a Japanese attack on Malaysia. On December 10th 1941 the Repulse and the Prince of Wales were on their way back to Singapore, where they were caught by a Japanese air raid and sunk.

Included: construction kit, instructions manual, decor