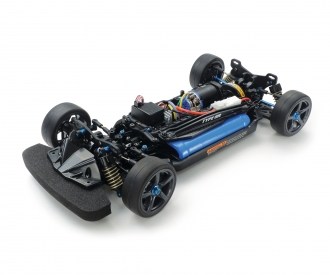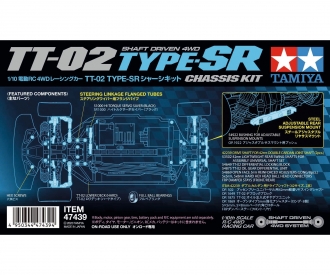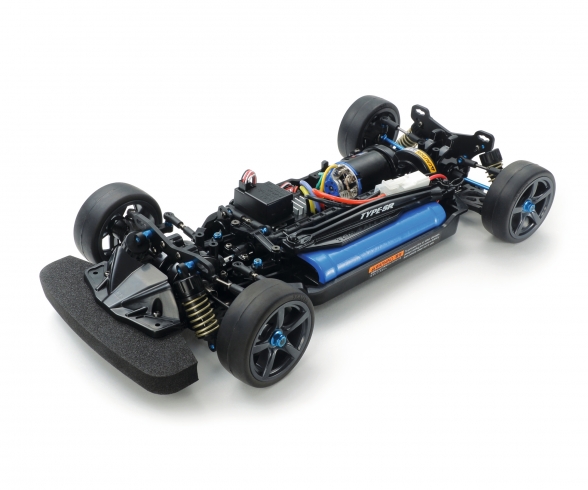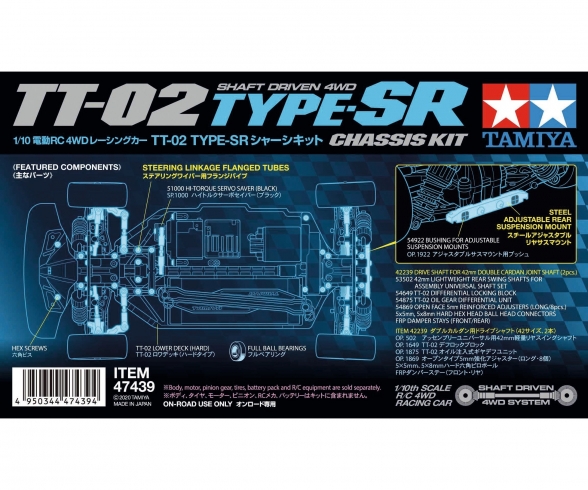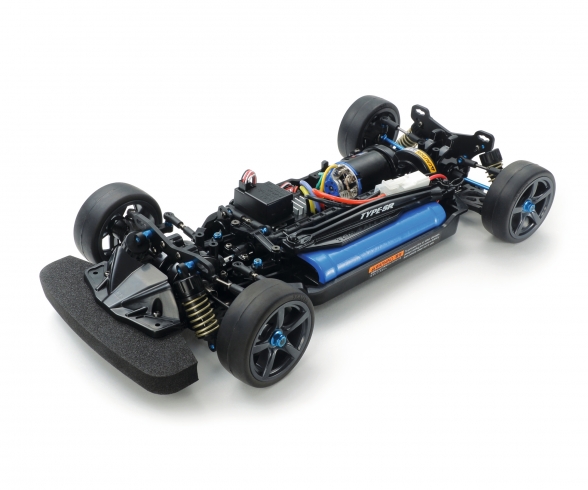 Quantity:
1
2
3
4
5
6
7
8
9
10
11
12
13
14
15
16
17
18
19
20
21
22
23
24
25
26
27
28
29
30
in stock, Delivery time 1-3 working days within Germany
This item can only be delivered to the following countries: Germany, Austria, Portugal, Netherlands, Hungary
we will pass on the reduction in VAT to you with an automatic discount in the shopping cart.
Article number: 300047439
Product: 1:10 RC TT-02 Type-SR Chassis Kit

The TT-02 series welcomes a new high performance member to the stable with the release of the TT-02 Type-SR, a chassis which takes the Type-S and combines it with a range of racing parts. The result: a fun, smooth and fast drive straight out of the box!

About the Model
• This is a 1/10 scale R/C chassis assembly kit. Length: 361mm, width: 185mm. Wheelbase: 257mm.
• A steel version of the new adjustable suspension mounts is included. It uses plastic bushings which can be exchanged to allow a huge range of toe and roll center settings.
• New flanged pipes in the steering linkage ensure smooth motion and superior durability.
• The front of the car uses double-cardan drive shafts, and the rear lightweight shafts, resulting in highly
efficient drive.
• Open face adjuster designs and hex hole ball connectors mean swift adjustments.

Warning notices:
Read carefully and fully understand the instructions before commencing assembly. A supervising adult should also read the instructions if a child assembles the model.
When assembling this kit, tools including knives are used. Extra care should be taken to avoid personal injury.
Read and follow the instructions supplied with paints and/or cement, if used (not included in kit).
Keep out of reach of small children. Children must not be allowed to put any parts in their mouths, or pull vinyl bags over their heads.

Features:
- Steel Adjustable Rear Suspension Mount
- Bushings for Adjustable Suspension Mounts (54922)
- 42mm Lightweight Rear Swing Shafts (53502)
- TT-02 Oil Gear Differential Unit (54875)
- 5x5mm Hex Ball Connectors (53968)
- Full Ball Bearings
- Flanged Steering Linkage Pipes
- 42mm Double Cardan Drive Shafts (42239)
- TT-02 Differential Locking Block (54649)
- Open Face 5mm Reinforced Adjusters (54869)
- TT-02 Lower Deck (Hard)
- FRP Damper Stays (Front & Rear)
- Hex Head Screws
Frequently bought together
Frequently bought together