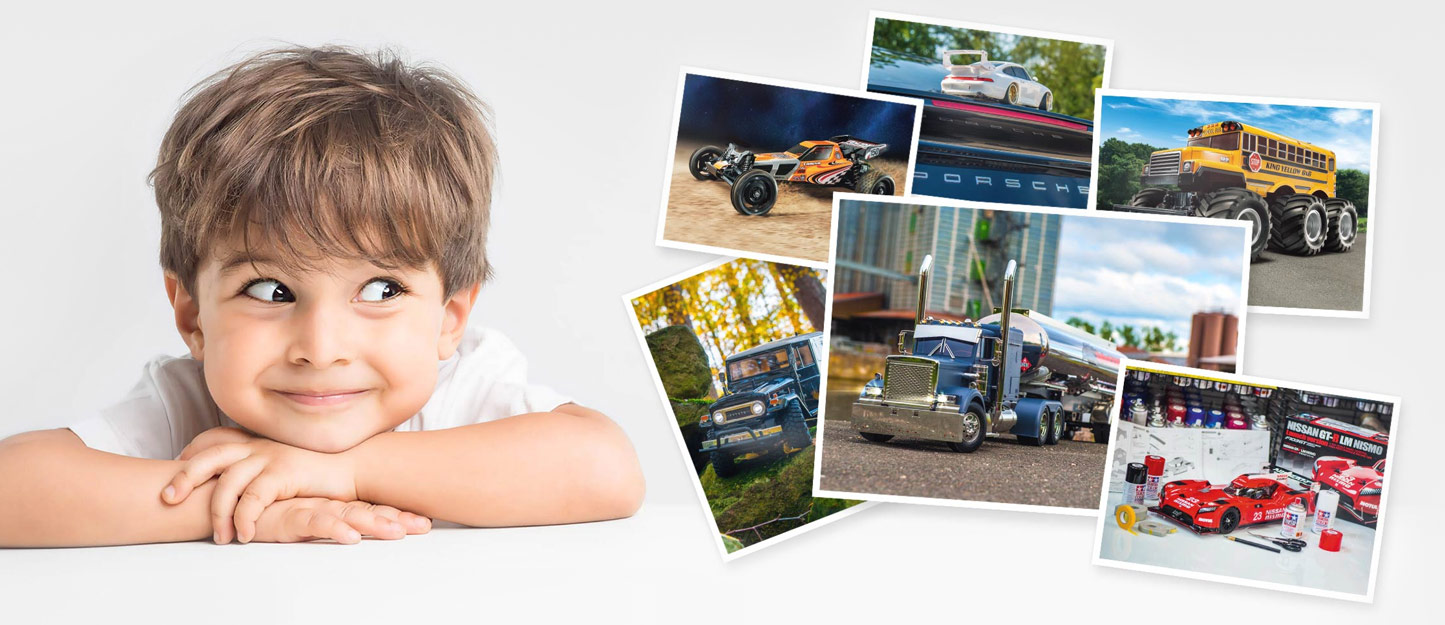 First in Quality Around the World
Tamiya is a Japanese manufacturer of plastic model kits, radio controlled cars, sailboat models, acrylic and enamel model paints, and various modeling tools and supplies.
Brand philosophy
First in Quality Around the World
High-quality RC models from TAMIYA, the Japanese market leader for remote controlled electric vehicles, have built up a good reputation over the years and are rightly advertised under the slogan"First in Quality Around the World". TAMIYA has been producing plastic models since the end of the 1950s, and in 2007 it celebrated its 30th anniversary of making RC vehicles. TAMIYA has been providing everyone in the RC sector, from beginners to world champions, with the car model most appropriate to them. The truck and tracked vehicle range has been thrilling the model making scene for over 2 decades.
History
TAMIYA – the worldwide network
TAMIYA Inc. Japan, which has its headquarters in Shizuoka, was established in 1946 and today has a worldwide network with 4 subsidiaries and more than 60 agents, for instance in the USA, Hong Kong and of course Germany.
Production
TAMIYA Philippines Incorporated – the production site
More than fifteen years ago TAMIYA laid the foundation stone in the Philippines for a state of-the-art production plant, which sets new standards. The TAMIYA models are manufactured at the site which currently covers an area of 4 hectares. Here highly qualified staff work in the fields of product development, 3D model design, mould construction, as well as production and quality control. In addition to this, the site also has its own printing plant for all TAMIYA packaging, construction guides and other printed materials. As it has its own production plant, TAMIYA is able to produce products to the highest quality standard.
Our racing series
TAMIYA FIGHTER-CUP and TAMIYA EURO-CUP
With the TAMIYA FIGHTER-CUP and the TAMIYA EURO-CUP, there are two RC racing series that, for the past 17/22 years, have successfully nurtured the next generation and given fans the opportunity to practise their "high-speed" hobby. With up to 3,000 participants each year, the FIGHTER-CUP is the world's largest youth racing series for RC cars.
Exhibitions
In close touch with the client
We present our range of products at numerous model making exhibitions throughout Germany and Austria. There, the contact with customers and fans is maintained, new products are presented, and everyone talks shop. Why not visit us at one of the exhibitions near to you? You can find information and relevant dates at www.tamiya.de
Quality
First in quality around the world – the TAMIYA quality promise
We are committed to manufacturing and supplying top quality products and to providing a top quality service. Our objective is to achieve the highest possible level of satisfaction amongst our customers and business partners. We are continuously improving our processes and products, in order to strengthen our position as worldwide leading manufacturer in the field of model construction even further.

Shunsaku Tamiya
Chairman
About the group