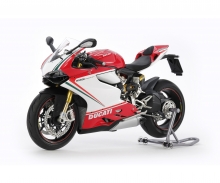 Article number: 300114132 Product: 1/12 1199 Panigale S Tricolore This scale model assembly kit depicts the Tricolore version of the thoroughbred Ducati 1199 Panigale S. As its name suggests, the Tricolore came in a 3-color scheme: red, white, and green to match the colors of the famous tricolore italiano national flag, in commemoration of the 150th anniversary of Italian reunification. It shared most of the base bike's revolutionary design, including the 1,198cc L-Twin engine integrated into the monocoque frame and directly connected to the swing arm, damper unit, and so on.
€49.99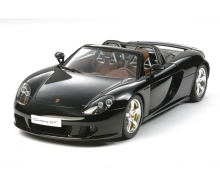 Article number: 300012050 Product: 1:12 Porsche Carrera GT This is a 1/12 scale premium assembly model kit of the Porsche Carrera GT. Assembly of the delicately curved body follows that of the full-size car. Durable die-cast suspension arms are combined with working dampers and stabilizers for real-action suspension. Metal-hinged doors, hood and rear cowl open realistically to display the fully detailed interior and V10 engine. The rear wing pops up to the extended position when the license plate is pressed, while the hard-top can be removed and stored under the hood to show off the convertible style of the Porsche.
€449.99
New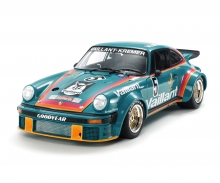 Article number:300012056 Product: 1/12 Porsche 934 Vaillant Following on from the re-issue of the Jägermeister-sponsored 934 (Item 12055), we are delighted to announce its Vaillant livery cousin's debut in the 1/12 Big Scale Racing Cars series. From 1976, the commercially sold race car Porsche Turbo RSR was used in World Sportcar Championship races. As it was to be used in Group 4 GT class and the 930 Turbo was its base, it was called the 934. Its 2,993cc flat-6 turbo-charged engine thumped out an impressive 485hp with 62kg/m of torque. One of the 934 racecars was run in the 1976 DRM (German Racing Championship) by Kremer Racing. The cobalt green car took three victories that season, carrying driver Bob Wollek to the top of the Division 1 drivers' standings. About the model • This is a 1/12 scale plastic assembly model kit. Length: 360mm, width: 168mm. • This kit features the same slick tires as used in Item 12055. • The impressive form with parts such as the large-sized front bumper spoiler and the widened overfenders is accurately reproduced. • Left and right doors and front and rear hoods are openable. • Flat-6 turbo engine's cables, cords, and piping provide a top quality finish. • The rack & pinion arrangement enables moveable front wheels linked with the steering wheel. • Moveable front and rear suspension features coil spring dampers. • Spartan interior with roll-cage is precisely reproduced. • Photo-etched parts depict brake discs, catch pins, side radiator, and seatbelt for the ultimate finish. • Sponsor and car number decals are produced by Cartograf. • Please note that the Tamiya Color spray paint TS-102 Cobalt Green will also be introduced for this model.
€139.99
Informations relatives à l'expédition
Si vous avez mis cet article dans le panier, l'adresse de livraison de votre commande est limitée aux pays suivants :